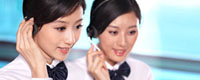 Tel: +86 755 28465570
Mobile: +86-13510248079
E-mail: sales@doubwell.com
Add: No.6-2, HuanChengNan Road, PingDi, LongGang district, Shenzhen, GuangDong, China.
Skype: umbrellaproduct
MSN: dennispring1@hotmail.com




DOUBWELL UMBRELLA CO.,LTD, is an umbrella manufacturer locate in ShenZhen city-China, where is known as producing good quality umbrella region. Have 20 years experience producing umbrellas & umbrella frame ribs.
Supply the type umbrellas: golf umbrella, kids umbrella, automatic closing and opening umbrella, promotional umbrella, folding umbrella,sun umbrella, beach umbrella,...etc. Supply the frame ribs material: steel, wooden, aluminium, fiberglass and various size.
The 100% umbrellas
are have inspected by very careful quality control before shipping, the stitching and sewing is perfect, the craftsmanship is all correct. We confident to invest to our production series to meet our client requires. Reasonable price and professional services make us more competitive in the international marketplace. You are easy and safety to buy here.
DOUBWELL own a professional team for assist customers complete the every OEM & ODM project. For more information, please contact us freely.